Diminished
Value
YOUR VEHICLE MAY LOOK THE SAME AS IT DID BEFORE THE WRECK, BUT IT'S NOT WORTH THE SAME.
YOU'VE SUFFERED DIMINISHED VALUE
If your car or truck has been wrecked, it now has a damage history and may be branded for life with a negative Carfax® Report.
---
DVAA is a Diminished Value Auto Appraisal firm that specializes in Diminished Value Claims. Each Diminished Value Appraisal report is prepared by a Government Certified and Licensed Auto Appraiser.
When you choose DVAA for your appraisal needs, the appraiser preparing your report will be Certified and Licensed by a government entity, not by a private group willing to issue an "Auto Appraiser's Certification" to anyone willing to provide $500.00 and answer a few questions online. Each appraisal is signed, dated and has the appraiser's official government certification number on it.
Why Choose Diminished Value Auto Appraisers?
Government Certified Appraiser
Your appraisal will be produced by a government certified and licensed auto appraiser with over 9 years experience producing Diminished Value Appraisals. License #V34-075 
Credible Automotive Experience
Your Auto appraiser will have a minimum of 30 years of automotive valuation and marketing experience with a minimum of 9 years producing diminished value appraisals.
Credible Valuations
We never inflate your claim to win your business, nor do we devalue your claim costing you money for the insurance company to settle quicker. We provide True, credible, unbiased appraisals which makes the process quicker and easier for you. 
USPAP STANDARDS
We follow the Uniform Standards of Professional Appraisal Practice (U.S.P.A.P.). This is the most widely recognized Appraisal standards and is what makes our appraisals credible. 
BRICK AND MORTAR LOCATION
DVAA has a real long term physical location. Not a UPS office, Post Office, Residence or Vacant lot that many fly by night online appraisal companies rely on.
100% Money Back Guarantee
You can order in confidence that not only will you receive a credible appraisal report proving your diminished value, but if you fully follow our instructions, and recover less than your appraisal cost, we'll provide you a 100% refund of your appraisal fee.
A Few Things You'll Learn At This Site:
What Diminished Value Is.
The different type of Vehicles you can claim your loss of value on. Cars, Trucks, Motorcycles, RVs, etc.
If you have a Diminished Value Claim.
Approximately How Much Diminished Value Do You Have? (Using our Free DV Calculator)
Why you need an appraisal not just a report.
How to file a claim.
Why most appraisers use the wrong Market. 
That we only work for consumers, and don't have any obligatory ties to the insurance companies. 
Our background is in automotive sales, not working for an insurance company or body shop. 
Many Appraisers who are Ex Insurance Adjusters and Body Shop Estimators Don't have a clue what your vehicle's overall value really is. Do you really trust an Ex Insurance Guy with ties to major insurance companies to recover your full value?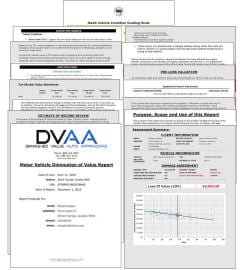 What is Diminished Value?
Diminished value is the loss in market value to your car that occurs when you have been in an auto accident. Even when your vehicle has been completely repaired and there are no previous accidents, your vehicle will lose value. There are 3 different types of diminished value:

Inherent Diminished Value – is the type of diminished value we'll be mostly discussing on this site ads it is the most widely recognized and accepted form of diminished value pertaining to most car accidents and diminished value claims. Inherent diminished value assumes optimal repair quality has been completed and is the amount the vehicle will be reduced based on the stigma of an accident history. Most diminished value claims are for inherent diminished value. This type of loss of value can affect the vehicle from several angles.

Prior Accident history reported by an automotive history reporting agency such as Carfax or Autocheck.
The accident being reported by an insurance company to the insurance services office (ISO) or the national insurance crime bureau (NICB)  this data may show up in CLUE, the Comprehensive Loss Underwriting Exchange Reports disclosing the vehicle's prior damage and it's relative value related to a new claim such as a total loss. In layman terms, the insurance company is going to report the accident to a national database and any future claims you have may be affected by the reported data the insurance company submitted to the database. For example, your vehicle is totaled 1 year after the reported accident. The insurance company may now want to pay you less on your total loss claim than they would have if the vehicle hadn't had a prior loss.
Knowledge of prior damage. Most automotive dealerships have your disclose prior damage to your vehicle when you trade it in. Usually if the damage is more than $500. This is due to them assuming the liability of the prior accident history and any possible damage that was not repaired correctly, not found at all, or repaired with low quality parts.

Immediate Diminished Value -is the difference in resale value immediately after an accident, but before the vehicle has been repaired.
Repair Related Diminished Value – will include any and all additional amounts by which the resale of the vehicle can be further reduced due to less than optimal repairs or parts.
You can find out more about the Types of Diminished Value by clicking this link.
At no-fault of your own, your vehicle is now worth thousands less even if it's been repaired to what they called pre-loss condition. It may not feel or drive like it did before. Even if there were optimal repairs that returned it to 100% pre-loss condition, your car or truck now has a damage history and may be branded for life with a negative Carfax®  or AutoCheck® Report reducing the value of your vehicle.
That's not fair. In a perfect world, the insurance company would just replace your car. But, the world isn't fair and insurance companies only care about their bottom line. DVAA's Loss Value Appraisal provides the credible proof and documentation you need to recover your loss of resale value, also known as "Diminished Value".
READY TO GET STARTED?
It's Simple. Just follow our proven process below and recover your diminished value in just 6 easy steps.
1. Gather Documentation
Request a PDF of the final repair estimate from the repair shop. Have it ready when you fill out our questionnaire in the next step.
2. Request Free DV Estimate
Request a Free Diminished Value Estimate to find out how much diminished value your car has suffered. Upload or email the PDF of the repairs and your vehicle's photos when you fill out the form.
3. Order Appraisal
Order your signed and certified diminished value appraisal from DVAA. Our Government Licensed and Certified Appraiser will prepare and sign your Appraisal. 
4. Send Demand
File a demand to be made whole with the at-fault insurance company following our simple instructions and using our proven forms.
5. Negotiation
The insurance company will assess your claim an some may want to negotiate. We're here to assist you with any negotiations regarding your diminished value. 
6. Settlement
Following our time proven instructions and evidence,  you'll receive a settlement for your diminished value claim in as little as 2 weeks.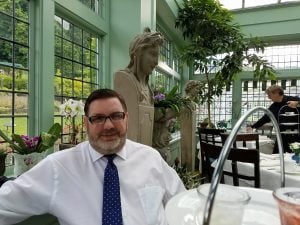 Each appraisal is overseen and signed by our Appraisal Director, Ken Nix.  With over 40 years experience in the automotive industry, he is a highly respected automotive authoritative. Founder of several forums with over 60,000 members worldwide Ken is an internationally known automotive expert and licensed and certified auto appraiser.  He has been an administrator for Autoguide.com for 9 years. He has testified as an expert witness in many diminished value arbitrations, jury trials, and criminal restitution court cases over the past 10 years. Ken has over 18 combined years of experience working for Honda, Toyota,  Volkswagen, Volvo, Kia, Chevrolet, Ford, Chrysler, Dodge, and many other automotive Franchises. He's worked directly with hundreds of national dealership personnel such as Dealer Principals, General Managers, General Sales Managers, and  Fixed-Ops Directors while employed with Reynolds and Reynolds developing and consulting automotive marketing for dealers. Be aware, although Ken's experience isn't in auto body repair or working as an insurance adjuster, his experience is where it counts, in sales and marketing of new and used vehicles. Do you really want someone representing you that "used to work" for the insurance company? And, may still work for the insurance company? Or a mechanic, adjuster or auto body estimator who knows nothing about marketing used vehicles. You have an adjuster and body shop to worry about your repairs, you need someone with experience in the marketing and valuation of vehicles to determine your loss of resale value, also known as Diminished Value.

"

The Hartford came back with $7,000 on the first offer!

"
Russ G.

"Liberty Mutual Paid 100%!"
"Just a note to let you know that Liberty Mutual accepted your diminished value number of $2,840.00 for my Jeep, and will pay it. Merry Christmas!"

"I was expecting a fight, but I sent the appraisal in and Progressive's initial offer was $4,000 and finally settled at $5,200 " M. Alvarez – Houston, TX

"Sorry it has taken me so long to tell you this, but Safeco settled with me for $5,000! I was incredibly happy about that and I just wanted to give you a big ol' heatfelt thank you! I never could have done it without your help. I think it was less than a week after I sent them your estimate that I had a check in my hand. 
Again, THANK YOU! Luke. R.

"AAA Paid 77% of your Valuation"
"The insurance company (AAA) has responded. They are offering $1,746.75 to settle the case. Your value was $2,503.00." – Henry

"I've got a check from State Farm for the total sum you appraissed – thank you very much! -G McCoy

"Settled for nearly #4,500 dollars, I'm no longer a skeptic". J. Smith


"Received my appraisal within 48 hours signed by a certified appraiser. Not only did they pay the full amount, but they reimbursed the cost of the appraisal also". – C Royals

"Great Outcome! Highly Recommended!"
He knows cars, and knows the insurance agencies. Ken held the insurance companies feet to the fire, and forced them to increase my vehicle valuation by thousands of dollars.