What is Diminished Value?

Diminished Value is the loss of value a wrecked and repaired vehicle has suffered due to now having a significant damage history. Your car now has a damage history and may be branded for life with a negative Carfax® Report. Auto Dealers will now pay you less for your vehicle as it will be harder for them to sell. When compared to another car with no accident history, a normal buyer will pay less for a vehicle with a prior accident history.
DVAA is a Portland, Oregon Diminished Value Auto Appraisal firm that specializes in Diminished Value Claims throughout Oregon and Washington State. Each Diminished Value Appraisal report is prepared by a Certified Auto Appraiser, licensed by the state of Oregon.
Why Choose Us?
✅ Quality over Quantity.
✅ Oregon Licensed Auto Appraiser
✅ Located in Portland, Oregon (not the East Coast or at a UPS Store)
✅ We specialize in OREGON Diminished Value Claims
✅ USPAP Compliant Appraisals
✅ Authorized by the Oregon Department of Transportation
✅ Fully Detailed Instructions
✅ Expert Negotiation Assistance
✅ Includes 2 demand letters referencing ORS. 20.080
✅ No Risk, 100% Money Back Guarantee
✅ Referral to an attorney (see their contingency agreement now and see why this is so easy)

Quality vs. Quantity

There is a difference you should consider when hiring an auto appraisal firm. Most online appraisal firms spend tens of thousands of dollars each month for radio advertising and online ads to sell as many appraisals as possible. It's a numbers game to them, they sell hundreds of generic appraisals per month, basically throwing spaghetti against the wall, hoping it will stick.
Large Appraisal Company Cons:
No Physical Inspection. Most large appraisal companies don't even inspect your vehicle. If they do, they're normally out to do additional repairs to your vehicle through their body shop, that you may end up paying for. Or worse, they send a minimum wage employee that does a sloppy job documenting the equipment and condition and it hurts your case.
Aggressive Salespeople. You're normally not going to speak to an actual appraiser, just a salesperson. They'll tell you anything to sell you an appraisal. If you think car salesmen are bad, wait until you get on these guy's call list.
Generic appraisals. Insurance companies receive hundreds of their appraisals each month. They're all the same except your vehicle information has been inserted in a form letter. How much credibility does your appraisal have if it says the same thing as all the other appraisals they receive from that company?
Who's really producing the appraisal? A Licensed appraiser or a minimum wage employee? The average Diminished Value Claim is $4,800. If multiple people are producing the appraisal, each person can be subpoenaed to testify as to their role in the preparation of the appraisal.
Who's side are they really on?  An appraiser should be unbiased with no motive to produce a biased report. Many appraisers produce hundreds of appraisals for the same insurance company each year. Insurance companies do this with body shops all the time. They "buy" the shop's integrity.
They only want the sale. No one is there to advocate for you. Many times there are other options that are better for you.
USPAP Compliant? In Oregon and Washington, if you purchase an appraisal for real estate, by law, the appraiser has to follow the Uniform Standards of Professional Appraisal Practice (USPAP). When it comes to auto appraisals, there is no such law. They can claim to be "compliant" by just using some type of comparable vehicle to determine the pre-loss value. Very few identify the scope of the appraisal at all. Which can call into question the credibility the appraisal.
Are they part of another automotive company? If an appraiser or firm owner has a vested interest in an auto body collision repair shop, auto sales business, auto wholesale, auto parts, auto repair or any other automotive business, they may be violating USPAP ethics regarding conflict of interest. This could have a severe negative effect on your diminished value claim.
DVAA is changing the diminished value claim process. We put quality first.
One Licensed Oregon Appraiser does it all. From your initial estimate to the physical inspection to producing the Diminished Value Appraisal to Testifying in court if necessary. You no longer have just a generic piece of paper stating your diminished value, but a unique appraisal that was prepared from start to finish by one appraiser.
DVAA PROS:
A free Physical inspection of your vehicle is included with each appraisal. An Oregon certified and licensed vehicle appraiser will evaluate the vehicle's condition and provide a free repair quality evaluation.
The same appraiser will take the time to discuss your options with you based on the severity of the damage to your vehicle. Such as should your vehicle be totaled due to the safety system being compromised, are there bad or improper repairs that need to be corrected, etc.
The same Appraiser will write a unique narrative regarding your vehicle and provide you with a signed appraisal.
We do not have vested interest in any other automotive activities such as Auto sales, Auto Body Repair, Auto Parts Sales, Etc. Using an appraisal company who has vested interest in another automotive business, could put your entire case at risk due to conflict of interest.
We never accept tips, bonuses, etc.
We follow U.S.P.A.P. STANDARDS. We identify the commonly appropriate market your vehicle would be sold in by the owner. We use actual sold vehicles as comparables, instead of "for sale" vehicles that may have their prices reduced by thousands during the time the insurance company is investigating your claim.
Proven Process. We've developed a proven process to reduce the chance you will have to go to arbitration or court. By producing unique, credible appraisals that use math to substantiate our opinion we've been able to increase the chance that the insurance company will settle quickly and for a larger percentage of the claim than ever before.
Claim Your Diminished Value!
Diminished Value is the immediate loss of value a vehicle suffers due to a car accident. The loss of value remains even if the car, truck or motorcycle is fully repaired. It retains the loss due to the stigmas  associated with the accident. Diminished Value can have varying degrees. A car with light cosmetic damage will not reflect the same loss of value as a vehicle with structural damage or frame damage.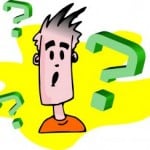 In all states except Michigan, such as Oregon and Washington you may file for diminished value if someone else is at fault. This would be considered a third party claim, where someone else has accepted liability for the accident. If the at fault party is uninsured or there is a hit and run claim, You may claim Diminished Value under your own policy in Oregon and Washington if you have uninsured property damage insurance and the driver of your vehicle was not at fault.  3rd party Diminished Value is claimable in 49 states with the only exception nationwide, being Michigan. We help Diminished Value claimants nationwide. Whether you're filing diminished value in Seattle Washington, or have a Loss of Value claim for your pickup in Portland, Oregon, we can help you recover more of what you're owed with a solid diminished value report. We have clients from all over the country who have taken advantage of our reports and recovered their diminution of value quickly and easily. At this time, due to demand, we are only accepting appraisal assignments in Oregon and Washington.
Here's what our clients are saying about us:
✓ "I sent copy of you incredible report and they came back with $10,000.  No battle at all against your documentation." L Rivara – Austin Texas.
✓ "I sent off your report and had a 5 minute phone call  with the adjuster and settled my diminished value claim for $5,000.00" – K Kreiling – Seattle Washington.
✓ "We just settled at $4,600. With no attorney and just your report. Thanks so much for all your help I'll definitely use your services in the future." Tammy B. Portland, Oregon.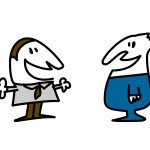 Our Report Includes: USPAP Compliant Appraisal – (Best for quicker settlements and larger awards) Includes:
USPAP Compliant Appraisal
Market Comparables.
Audit of Final Bill.
Damage History Check.
List of Major Factors Impacting the Vehicle, causing the loss of value.
Reference of Hidden or Damage that may not have been found.
Reference of Compromised Structural Integrity. (noting known stresses such as Low Cycle Fatigue and Crack Closure.)
Signed By an Oregon State Certified Auto Appraiser.
All Supporting Documents
2 Sample Demand Letters
Instructions including conversation samples. Negotiation tips.
Ongoing Phone Support.(if you need us, just pick up the phone.)
100% Money Back Guarantee.
Call or fill out a request on your right for a free estimate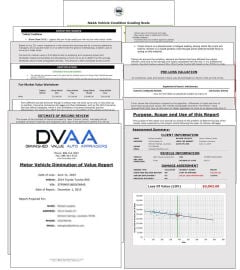 Diminished Value Appraisal
Each Diminished Value Appraisal includes a multi page narrative explaining why you have suffered a loss of value.

Full Instructions
With each Appraisal, we include our ebook, Diminished Value Made Easy, which includes simple instructions, rebuttals and insurance company contact information, to make pursuing your claim easy.

Review of your Estimate of Record
The appraiser will review your estimate of record (if provided) and will determine the severity of damage to your vehicle. Structural and Frame damage will diminish your value more that cosmetic damage only.

Real Market Comparables
We use real market comparables sold in the past 30 days to produce a credible USPAP compliant Appraisal.

Not just an Appraisal
Report sections and pertinent information are organized to allow you to easily find information when speaking with the insurance company. Each appraisal includes diagrams,  definitions, legal verbiage and Logical arguments supporting diminished value to reduce objections by the insurance company.
What our clients are saying about us…
Liberty Mutual Paying 100%!
Just a note to let you know that Liberty Mutual accepted your diminished value number of $2,840.00 for my collector Jeep, and will pay it.
Merry Christmas!
AAA Pays 77% of Valuation
The insurance company (AAA Insurance) has responded.  They are offering $1,746.75 to settle the case.  Their estimated diminished value is only $990.50.  Yours was $2,503.00. -Henry
Safeco Pays $5,000
Sorry it has taken me so long to tell you this, but Safeco settled with me for $5,000!  I was incredibly happy about that and I just wanted to give you a big ol' heartfelt thank you!  I never could have done it without your help.  I think it was less than a week after I sent them your estimate that I had a check in my hand.  I hope your doing better now that the wildfire smoke has diminished.  Again, THANK YOU!! Luke R. 11/30/2015 – Original valuation  was $7,200.
He Really Is
As the Used Car Manager at the oldest Ferrari Dealership in North America I felt confident I could handle the Diminished Value claim on my BMW with ease. I couldn't have been more wrong. Because of your help I was able to get a satisfactory settlement on my BMW in excess of what I thought possible. Lance S.
Good News? Great News!
Good news!  Metlife agreed to settle for about 11,500 after having two other companies research the actual cash value of the car and the resale value.  They contacted several Porsche dealers who advised them of DV percentages in line with your estimate.
Not Jake From State Farm
$5430. I settled for $5430. The (insurance) appraisal came in with a DV of $4000, but they came up to 20% of $27000. Thanks for all your help. (name withheld by request due to being a S.F. Insurance Agent)