Diminished Value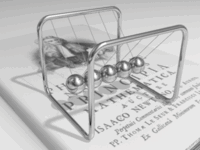 What is Diminished Value and Do I Quality? Diminished Value is the immediate loss of value a vehicle loses due to an accident or wreck. This is a loss of value that happens when a vehicle has been wrecked and repaired, but still retains a loss due to the stigma of a damage history. Diminished Value can have varying degrees. A car with light cosmetic damage will not reflect the same loss as a vehicle with unibody frame damage. There is normally possible hidden or unknown damage from kinetic energy as demonstrated by the Newton's Cradle on your right. Most of us played with this type of toy as kids. But it effectively demonstrates a real transference of kinetic energy from one area, to another. Part of diminished value is the stigma of unknown and/or unfound damage.
In most states like Texas, Oregon, Florida, Arizona and California, only 3rd party claims normally qualify, although uninsured motorists and hit and run claims sometimes will. At this time, Georgia is the only state where insurance companies are required by law to pay diminished value claims. Even so, Diminished Value is readily paid in most states with the exception of Michigan with the proper documentation to prove the loss of value.
Diminished Value is an Immediate Loss of Value
What will disqualify you from Diminished Value?
Renting the car, (not being the actual owner, although we are now seeing more and more clients who are leasing settling claims for diminished value).
Having a vehicle that is worth less than $7500. before the loss occurred. (this doesn't actually disqualify you, but it may not be worth pursuing a claim. Call us for a free estimate.)
Repair estimate is under $1000. (there are exceptions contact us for more information)
The statute of limitation has expired. (i.e. statute of limitations for filing a diminished value claim in Oregon is 6 years)
Your vehicle has had multiple accidents with extensive damage.
You were cited in the collision.
Your vehicle was declared a total loss or has a branded title.
If none of the above describe your situation, you probably have a good claim.
So what's the next step?
To file a claim and settle for a reasonable amount, you'll need solid evidence to prove your loss. That's where we come in. Each of our appraisals are prepared by Ken Nix personally. Ken believes you deserve a strong appraisal, not something put together by a staff with no automotive experience. That's why he takes a limited number of clients each week on a first come, first serve basis. Once that limit is hit, you'll have to wait until an opening comes up to order.
Beware the Appraisers Who Work Primarily for the Insurance Companies.
The Insurance companies aren't stupid. They know exactly how much value you've actually lost. Think about it, this is a multi-billion dollar company. Don't you think they have the resources to determine what the accurate loss value really is? Of course, but they don't want to pay that unless they have to. The burden of proof is on you. That's why Ken designed his appraisal to determine the difference between the pre-loss value and the post repaired value. Unlike the majority of Diminished Value Appraisers who come from either an auto body or insurance company background, Ken's background is in Automotive sales. He understands the difference in a Honda, Volkswagen or  BMW having a stronger book value than national fleet cars  like the Chevrolet Aveo that loose their resale value due to the used car market being flooded with them as they come out of service.
your appraisal is hard to dispute as it is based on facts and backed with 3rd party information from credible sources
Each appraisal is USPAP compliant with local used car market comparables. Ken audits the repair bill and inserts the bill into the appraisal with annotations pointing out structural and frame damage. (see image on your right) On this page from an estimate of record, it shows the vehicle had structural damage and severe frame damage. The body shop had told the client they had no frame damage and no structural damage. This is actually very common. Many old school body techs believe if it is a unibody vehicle, then it doesn't actually suffer structural or frame damage. Then some times they don't tell you just because they don't want to deal with you being mad about the damage.
In most cases if you have suffered structural damage, you have lost more than 10% of the pre-loss actual cash value of your vehicle. Most Insurance company appraisers use a formula that limits the payout at no more than 10%. You need a sound appraisal to prove your claim. Every statement that Ken makes on your appraisal is hard to dispute as it is based on facts and backed with 3rd party information from credible sources. Not secret formulas that the insurance companies immediately ask for, knowing you can't provide them.